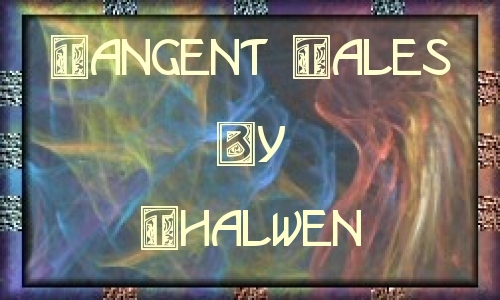 Welcome
I am glad you have found your way to my little speck within the vastness that is the internet. It is my hope that you enjoy your visit here. But before I can invite you in, I ask that you read the two sections below. Thanks!



Disclaimer
All the characters, settings, locations and any particular languages used in the fanfiction stories within this site, belong to their respective and rightful copyright owners. Only those marked as OC ( original characters ) belong to me. As do any stories, essays, rants and poetry not appearing under the heading of fanfiction. Therefore, I explicitly forbid anyone from taking any of the written content within this site without my permission. This prohibition also extends to any stories I have posted and/or will post in the following archives: AdultFanFiction.net; FanFiction.net; Peredhil.com; Galadhrim.net.
Absolutely no profit is made by me from any of my fanfiction stories. I only write them out of sheer love for the books, movies and television series that have sparked my imagination and, like many others, seek nothing more than to freely share my humble offerings with like-minded individuals.
Having said that, there are a few things I need to warn you about.



Warnings
This site contains fanfiction that is rated NC-17. That means that some of my stories have Explicit Erotic Content. There are also some stories with depictions of same-sex pairings. If homosexuality and/or erotica offend you, please travel on to a place more suited to your tastes.
Also, and most importantly, NO MINORS. If you are not an adult: EXIT NOW.
However, if you are at least 18 years of age, if reading erotic material is not illegal where you are and if you are not offended by such material, then I bid you...




Tangent Tales: By Thalwen (Thalionwen)©2005-Present